There is a song on my playlist, Seasons Of Love from the broadway musical RENT. I love this song. I entered a contest at
Savvy N Sassy
that required the use of school supplies in a project. Right away I thought of a ruler. Rulers are cool on a scrap page! Try it! Plus this ruler was 9 cents! I also dont do a whole lot of 2 page layouts, but I liked how this turned out. On my page my title is "How do I measure my life?" and my answer is "measure in love" I wanted to do a timeline sort of feel with pictures of my family, my sisters, my kids, my parents and my husband. I had so much fun doing this and I had a lot of help from my sister
Lucy
! Thanks so much for all your suggestions sistah!!! I have a card of hidden journaling that says: "I love the song, seasons of love, from rent. Lately I have been mulling over the ways I measure my life. What is important and what I hope I have accomplished within my lifetime. For me, mostly I hope I can "measure" my life in the love I show my family and the love that is shown in return."
I used Creative Imaginations paper, Bazill cardstock, ruler, Heidi Grace stickers, AC stickers, ribbons from
SNS
, Ink for the edges from
paper popsicles
Morrocco Kit, and I cut the red heart out and hand stitched some thread around it. Now I ask you to think about this question:
How do you measure YOUR life?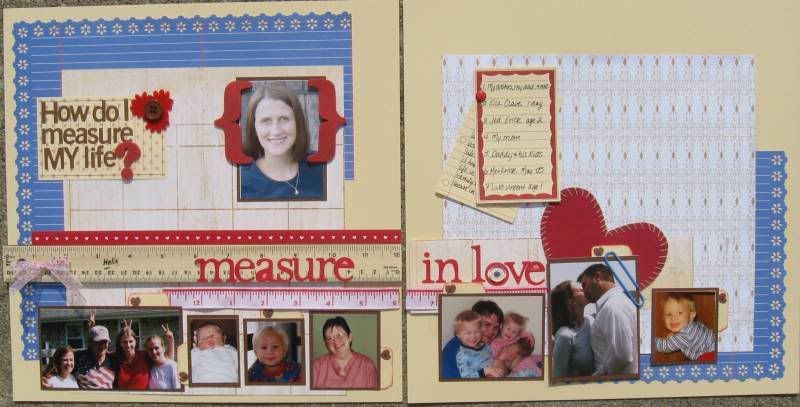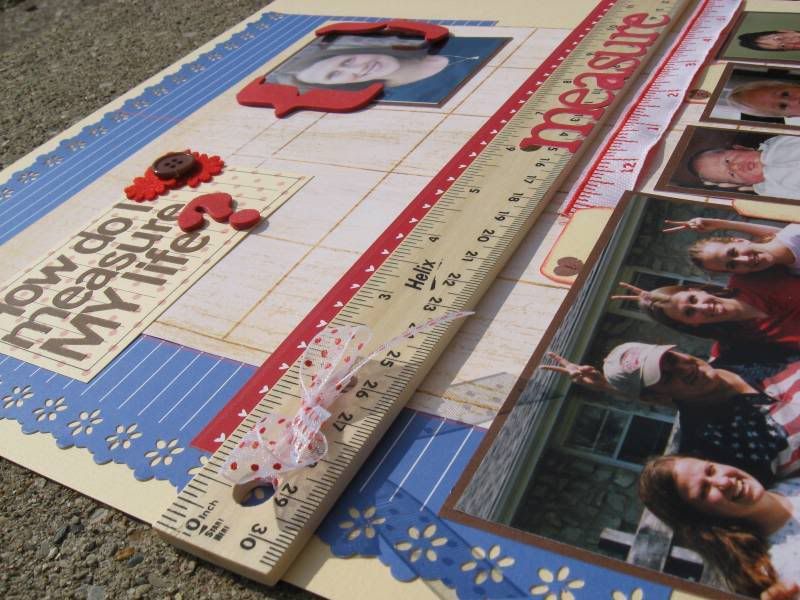 This was a fun project and I am glad to have it done. Now I sit and wait to see if I am selected as the guest designer for October for SNS...That would be cool.
The weekend has ended and now I am back to the usual, cleaning, laundering, and blogging!! The weather is beautiful so I plan to get the kids outside to play. We went outside yesterday evening and Erick took some great pictures of Jed learning to ride a bike and Ella and Luke playing. I will try to post those later.
*On another note, mark your calendars! Paper Popsicles is hosting a Fall Fling weekend crop on October 12-14! There will be contests, challenges, and prizes. You can get all the info at the Paper Popsicles
newsletter
. There are even pics of the prizes! Be sure to come and play!!!