Well Today I am in a good mood!! I got a good nights rest and I figured out how to put a visitors counter on my blog. That was fun. Who is in shock about it being August Already??? I am. My son will be 5 before the month is over, school will be back in session - not that it applies to my family, and I am only about 6 weeks away from turning the big 2-8!!!
I added a link to
my gallery
over at
paper popsicles
. It is a lot of fun to see my stuff on Melissa's site! Because it is August 1st, her
Sept kit
is up and ready for order. She puts together some really nice kits and theme packs.
So life is moving along this summer. Last night I had to go to my biweekly church calling. I teach the Activity Days class, a group of 8-11yr old girls. They are too much! Last night was our campfire night. Yes, I planned a campfire during 90 degree weather. I am wild. Well the girls had a blast. We played croquet (total blast from my past), badmitten, and made smores. When was the last time you had a smore? I couldn't remember and can I just say.... DELICIOUS! to say the least. Yummers.
So I am going to post some recent layouts and projects. I have been doing a lot lately. Last weekend was a Christmas in July crop at CMK and I made some fun things. I also won a prize!! Yay! I am not spending money on scrap stuff right now so it sure helps to win supplies.

Here is what I should be getting! Wow, plus a $10 GC to CMK's store. Gotta love that. These are some cosmo cricket Be Good papers. I have zero holiday supplies so this will be so fun to work with... Do I see some Christmas cards in the future?
This is a layout I did for a Guest Design team contest... Didnt win, but love the layout anyway. The journaling is song lyrics from the song, If We Hold On Together, by Diana Ross, and the pic is my mother in law in Hawaii.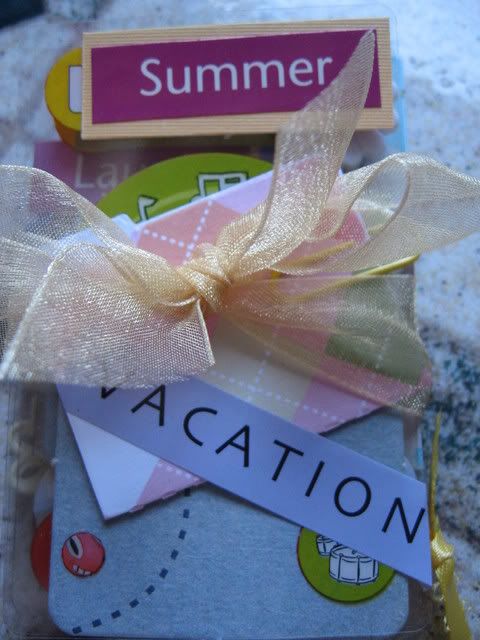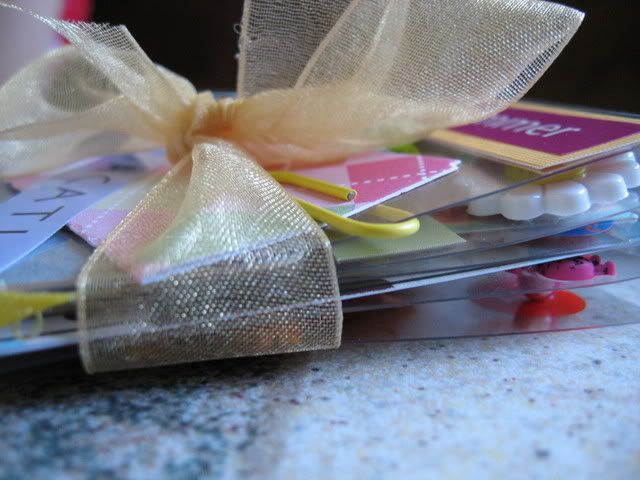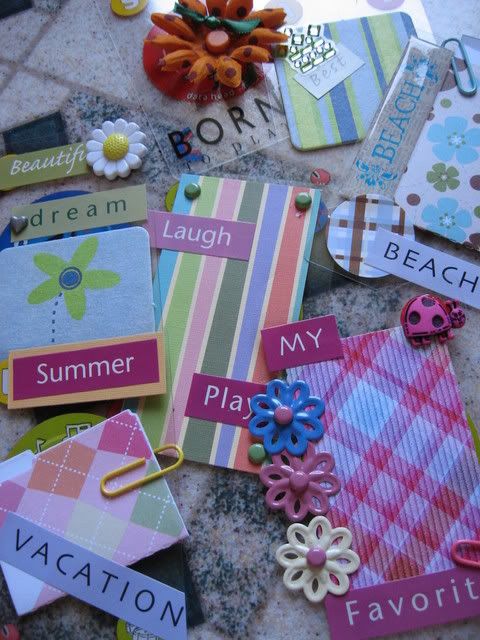 These pics are a little mini album made out of some Zigity cards. The card game is fun, but the clear cards were awesome for this project. I just glued different papers, folders, stickers, buttons, brads, etc.. to each little card and tied in a bundle with ribbon. I would like to put these all on a little ring. The theme is summer vacation, so I thought you could make notes of fun activities, etc... transparent stuff is very trendy right now, so I love this project.
This is a little garland using some snowflake paper and white cardstock. cute and very easy!

Ok, so just a few fun things I have been working on lately. Today our drywall guy is coming back, he was here all day yesterday and will finish up in a few days and I will have even more before and after pictures of house projects! Good times!